Interim Pastor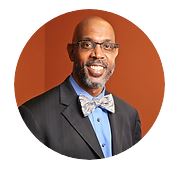 Rev. Dr. Kilen K. Gray is a native of Memphis, Tennessee. He graduated with honors from George Washington Carver High School in Memphis. He is a graduate of Kentucky State University with a Bachelors of Science degree in Computer Science. Dr. Gray earned the Master of Divinity and Doctor of Ministry degrees from the Louisville Presbyterian Theological Seminary of Louisville, KY. He was conferred an honorary Doctor of Divinity degree from Simmons College of Kentucky.
Dr. Gray serves as Dean of Community Life for the Louisville Presbyterian Theological Seminary in Louisville, Kentucky. In this capacity, he oversees all student affairs functions for master-level and doctoral students, and provides human resources functions for seminary employees. Dr. Gray also serves as adjunct professor for Louisville Seminary's Doctor of Ministry degree and Black Church Studies programs. Previously, he served as Human Resources & Community Coordinator for the Shelby County Public School district. In this capacity, he was responsible for all personnel functions for over 300 classified school employees, all district-wide public relations functions and served as the district's affirmative action officer. Prior to this, he was a systems engineer for Humana Inc. in its Contracts Administration Department for seven years.
Dr. Gray served as senior pastor of the New Mt. Zion Baptist Church of Shelbyville, Kentucky. During his 35-year tenure, he has led the church to live out its ministry as a family healing center, which is accomplished through an abiding faith, contagious worship, enduring fellowship, Christian education, and community outreach ministries.
Dr. Gray is co-founder, chief operating officer, and program director of the batterer intervention program for Creative Spirits Behavioral Health Center, a state-licensed, outpatient mental health facility, in Shelbyville. He is co-founder and member of the board of directors of GGT, Inc., a community development corporation of the New Mt. Zion Baptist church which seeks to reduce violence and provide support to families within high crime and high violence communities. Dr. Gray is the co-founder of Creative Spirits Ministries, the preaching teaching ministry of Kilen and Cassandra Gray. This ministry is focused upon sharing the gospel of Jesus Christ in a way that transforms broken lives into creative spirits. He is certified by the Cabinet for Health and Family Services as a domestic violence batterer intervention provider.
Dr. Gray's community service activities and recognitions include:
Commissioner, Kentucky African-American Heritage Commission
Past President, Shelbyville/Shelby County Branch, NAACP
Member, Kappa Alpha Psi Fraternity, Inc.
Recipient, Nolan C. Allen Man of Distinction Award, the Own IT project, the Center for Women and Families, Louisville, KY
Recipient, Adult Black Achiever Award, West Chestnut Street Y.M.C.A., Louisville, KY
Member, Potters House International Pastors Alliance, The Potters House, Dallas, TX
Dr. Gray resides in Shelbyville, Kentucky with his wife, Rev. Cassandra Harris-Gray and their two daughters, Lashondra and Raechele.